Testimonials
Hi Darren,

We are really pleased with the camper, highly recommend your company. Driver very professional in the delivery of the van.

Yours Alan
Alan - Scottish Borders
I would recommend buying your camper from Darren .

I purchased mine last December, No pressure to buy. Fantastic service. Delivered to our door just the week before Christmas. Fantastic Mezan, good quality second hand van, we love it. Thanks Darren
Barry - Staffs
Buying a vehicle unseen and to be delivered from 200 miles away from any online site could have been quite worrying except for Dragonville Leisure. Their salesman Darren was amazing. Every call, email and text answered in quick time. Even when, like most dealers, he said it has been owned by a 'Lady Vicar' it turned out to be true! I would recommend this genuine, honest fellow and his great vehicles to anyone. His passion for 'getting it right' for each client is evident from his conversations - he really cares that you get the van that suits you as an individual and that it fulfils your particular requirements. Indeed my lovely campervan is admired by all who see her. A great company with rare and admirable ethics.
Caz - East Sussex
The Piaggio Campervan arrived safely with Pete as planned and we were so pleased to have it delivered.

Thank you, Darren for making the whole process go so smoothly, from the viewing to the delivery of our campervan, the communication and service has been excellent. Thank you also for attending to the snagging list and all the other things. It's been a pleasure dealing with you and we look forward to enjoying trips out in our wee campervan, which we have named Giovanni!

Kind regards
Colin
Colin - Glasgow
Hi Darren.

We're delighted with the Romero camper van. It's just as I hoped it would be and Mum has already bagged her seat in it! 😀 Clearly it bodes well for keeping her occupied and stimulated as her Alzheimer's progresses.

Having had a poke about I think it suffers lack of use with some stiff fittings but we'll sort it all in time. Remarkably, I notice in the paperwork that it's first owner lived here in Weston-s-Mare so it has come back home....who knew???

Thank you for your thoroughly decent service and please pass on our appreciation to Pete who will have had a long day.

Best wishes, Andy.
Andy - Weston-super-Mare
Morning Darren!

We have received the awning, thank you, unfortunately can't try it as the weather is too wet and windy!! We would like to take this opportunity to thank you and your team very much for all your help, think we will be two (three with dog Lily) very HAPPY CAMPERS!! Once again , Many Thanks, April & Mel.
April & Mel - Cambridgeshire
Great service and communication throughout the whole of our purchase. The motorhome is in excellent clean condition and beautifully presented. Truly a pleasure doing business with Darren and the team at Dragonville - we would thoroughly recommend them.
Andy & Caroline - Hampshire
Hi Darren,

I just wanted to quickly write to you to thank you again for all of your help in selling us the campervan last month. We've just spent the past few weeks driving through France, Germany, Austria, Italy, Liechtenstein and Switzerland and the van got us safely through in one piece (no mean feat considering the weather and altitudes)! The plan is then to take it to Ireland and Spain (for some hotter weather) in the New Year.

Thanks a lot again
Colm and Perrine - Leics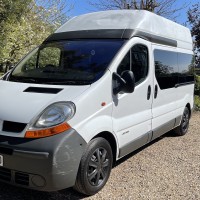 Absolutely delighted with our campervan which was delivered to us by Pete from the other side of the country (who was lovely and kindly reversed it into a tricky spot for me until I got used to it). It has been a pleasure dealing with Darren and it was readily apparent when we met him to view the camper what a genuine guy he is. Nothing was too much trouble and did I say, we are delighted with our camper :-) Brand new conversion on an older van which perfectly suited our budget and the configuration is the best I have seen in the country (I looked and better looked!) which was important having a child and dogs. Have enjoyed one adventure out it in it within 24 hours :-o and are looking forward to many more.

Thank you so much Darren.
Lyndsay - Lancashire
The van we bought from you was our 1st ever motorhome and it got us hooked. What helped was the fact that we never had a days trouble with it which is down to you having good vehicles. I always tell people where we bought from and I hope you may without knowing have sold to people we sent your way.

Thank you again
Debbie
Debbie - Nottinghamshire
I have been meaning to pop a review on for a while but it has slipped my mind to be honest.
We bought our first motorhome from DV last year, Darren was very helpful and honest with us when we went to look round, and was willing to point us in direction of more suitable MH's for us when he understood what we wanted to suit our family. We wanted some extra seatbelts put in, Darren was unable to do it immediately and recommended we use another company and he would pay the bill which he did immediately. We have used our MH (20yrs old!) and just returned from south of France in it. In short - we would recommend DV to anyone and will be certainly looking to upgrade via DV in future.
Ian Ruddock
Genuine review !

We purchased a Hymer motorhome from Darren and found him pleasant and easy to deal with and absolutely no pressure, got to see motorhome in great surroundings and with an appointment so even more personal experience.

Received motorhome delivered free I might add all smooth transaction but here's the best bit if your looking to buy from Dragonville Leisure. After a week or so I realised the horn did not work and the air con needed recharging, I contacted David from DL via the 3 months warranty given with the vehicle who deals with the after sales and booked vehicle with my local garage for the repairs.
Once fixed I paid the bill to garage and submitted to DL they paid with no hesitation ....... Now for me this was hugely important because it's when things go wrong that count and in a world of con artists ready to take your hard earned money theses guys stood tall, but please read your warranty book terms and conditions it's important .

In summery
Great service, price and feedback

Thank you Darren and David 🇬🇧😊
Darrell - Cambridgeshire
There was no pressure to at any point which was very well. Jon and Darren gave us clear and honest information plus loads of time to examine the van.

We now have an excellent van, so thank you both.
Peter & Helen - Leicester
Easy to do business with. Honest and friendly service without pressure.
Darren fixed every issue that was highlighted on mechanical and habitation checks within my time frame.

Dave and Penny
Dave & Penny - Northants
We recently contacted Darren regarding trading in our Hyundai campervan, I had tried a few other companies but no one seemed interested as there are not many about and they didn't know what to offer me, I emailed Darren some photos and he got in touch the next day giving me two prices, one for P/X and one for outright purchase, both were way more than I was expecting, the next day (Saturday) the money was in my account, Monday morning Pete collected my van, all this and Darren hadn't actually seen my van. I was thinking this is too good to be true but it wasn't and he was a man of his word, we will definitely be dealing with Dragonville Leisure again.
Ian & Marian - Birmingham
Excellent continuing aftersales service from Darren and Jon at Dragonville. Nearly a year after buying our Swift Sundance 590RL I wanted assurance that the Fiamma awning was retracting properly so popped over (by arrangement) from Nottingham to Dragonville. Without fuss, delay or bureacracy the necessary checks and adjustments were made and we were on our way. Bearing in mind this was on a 13year old outfit not a brand new £60k gin palace at a time when many dealers would say in effect "don't bother us you are lucky to have a motorhome at all" I thought this was remarkable.

Thanks again,
Tony and Jane.
Tony & Jane - Nottingham
Hi Darren

I just wanted to say thanks for organising our van to be delivered today.

We are really pleased with her and the way you have valeted her etc.

Thanks also for supplying all the paperwork/warranty and instruction manuals.

Pete was very efficient too.

Thanks again,
Cheers
Jean
Jean - Cheshire
Pleasure to deal with Darren, no pressure to buy wanted us to be completely happy before we decided. Van was properly prepared and delivered to us. All paperwork was sorted for us. Our first motor-van, would deal with again and recommend. Very friendly and professional service,
Peter & Christine - Lincoln
Everyone at Dragonville Ltd are very friendly. Darren is a man of his word and gets the transaction done efficiently. Because I bought a 21 year old vehicle there was an issue with the glow plugs but I was happily covered by the Dragonville warranty and they were very understanding. I recommend this place to anyone looking for a quirky camper at a fair price.
Emily - Newark, Notts
Had the pleasure of doing some business with Darren. Have to say it was an absolute pleasure. Darren is a man of his word, very efficient and to top it off is just a general lovely guy to deal with. Hopefully do some more business in the future. All the best Darren.
Graham - Keighley West Yorkshire
You would be hard pressed to find a better man to do business with than Darren at Dragonville. He buys quality previously owned motorhomes, his team carefully check, prepare and MOT them, and then he professionally and honestly markets them via an excellent website.

From the moment you make your first enquiry Darren is on hand literally 24/7 by phone, text, email or Whatsapp to deal with any questions you may have. Our Swift Sundance had some cosmetic and electrical issues remedied and a new tv aerial fitted and was then delivered to us in Nottingham. A couple of further issues became apparent, so the van was collected again by Pete and taken back to Dragonville. It was returned with new parts fitted in 7 days, no problem. Duplicate keys were requested, they were ordered, no quibble.

Darren and his team (Pete, John and the anonymous ones) deserve every support and encouragement.
Tony & Jane - Nottingham
Just recently taken delivery of our Toyota Hiace Campervan. Pete delivered it to our home many miles from Dragonville Leisure and was pleasant and friendly, waited until we had checked van out and were happy with it. Darren who we first spoke to about the van was brilliant. Told us about the van, no pressure, gave us time to think about it, explained (as we couldn't go and see the van ourselves), the procedure for buying. Very professional throughout but at all times friendly and pleasant. A very enjoyable buying experience.

Would highly recommend Darren and Dragonville Leisure and would use them again if looking for another van.

Agnes & Stephen
Agnes & Stephen - Lanark Scotland
Hi Darren,

Just to say thanks for the easy purchase. We're delighted with the motorhome.
The service from yourself and Pete has been brilliant.

Cheers Willas
Willas - Motherwell
Darren & Friends

Thank you so much for all your kindness and help whilst purchasing my campervan. "Daisy" is fabulous, so pleased with the Fiat.

Both yourself and your staff excelled and I can only say "You did everything and more - just as it says on the tin"......

When and if the time comes to exchange her - we will definitely be back.
Karen J - Leicestershire
Hi Darren

Just a quick note to say thank you for the Murvi, it's exactly what we needed. It drives great, we took it for a spin over to Wales at the weekend and it was spot on. If you could thank Pete for us, he was very patient and good company.

All the best - Ian
Ian S - Weston-super-Mare
Scouring all the secondhand Campervan adverts, spending days travelling around to see them, constantly disappointed I was fast losing hope of finding a suitable vehicle when I 'found' Dragonville Leisure.

Darren was a breath of fresh air, he pointed to the features and flaws, sorted the problems and consequently I have a lovely Toyota Noah, 2berth, well within budget and raring to go this weekend.

I would highly recommend Dragonville as a company who are extremely professional, friendly and actually listen to their customers. My thousands of questions were answered with the first class customer service they have.

A great company to deal with, well done to you all.
Sue W - Barnsley
We bought a Motorhome from Dragonville a fortnight ago and are absolutely delighted with it. We live a long way away and Darren made a huge effort to help us make a decision without putting any pressure on us at all. He answered every query we had promptly, immediately agreed to do some extra work on the van which we asked about and backed this up with more photographs. Superb service in every way.

We recommend Dragonville unreservedly.
Rod T - Somerset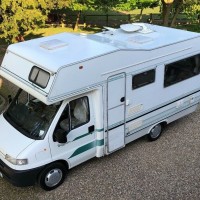 We have just bought our very 1st motorhome from Darren @ Dragonville and we are over the moon with it. Darren knew our budget was fixed and tight and went above and beyond to help us with part ex-ing our car. Description said the van had a solar panel fitted yet when we collected it, it turned out there wasn't one on it. Immediately Darren apologised and told us to get one fitted and he would transfer the money for it into our bank account. So we are in the process of sorting a panel out. That just shows what an honest guy Darren is. We would recommend Dragonville to everyone without hesitation.

Basil the choccie Lab is also so adorable and playful.

The whole experience of buying our van was very pleasant and smooth.

Darren we want to thank you so so much x
Debbie & Pete - Lincolnshire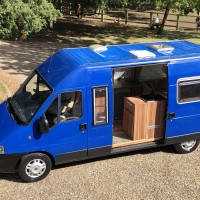 Thanks for a first class service Darren from start to finish and your coffee's not bad either 👍
Any feedback you need let me know, all the best mate from a very satisfied customer, 10/10 for customer service.

Cheers
Robert - Manchester
First class service from the moment we stepped onto the "forecourt" to the moment we took delivery of our Romahome from Pete. Darren and Pete made the whole experience a pleasure, no pressure, no hard sell just stacks of great help and knowledge.

Very highly recommended!
Sandra & Nick - North Yorkshire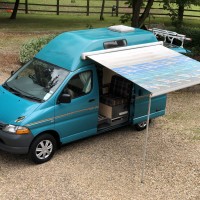 We travelled a long way recently to buy a Toyota Hiace Camper from Darren at Dragonville Leisure and we are very glad we did. From the first contact with Darren, all the way through the buying process, Darren has been true to his word and an absolute pleasure to do business with. Darren offers a personalised service with no pressure to buy. He respected the fact we had a limited budget and has been very helpful and accommodating. We highly recommend Darren of Dragonville Leisure for a smooth and professional buying experience. We absolutely love our new camper!

Muchas gracias Darren.
Rafael and Ann-Marie - Bournemouth
Having not seen the van prior I have to say that I am delighted with the Transit Duetto Darren, having cameras and sat nav fitted shortly. I'm afraid my wife has taken ill so had to postpone our first trip out but that gives me time to get everything set up she will soon be ok.

Thanks for everything and I hope Pete got to his collection and safely back will see you when I'm up on the East coast.

Once again thanks
Robert - Lancashire
Following a previous testimonial, we purchased a second and slightly more expensive motorhome once again from Dragonville. Darren and his team could not be more helpful or professional. The quality of the campers and motorhomes is very good, you have to bear in mind some have small age related marks etc. If you are looking for your first venture in motorhomes - give Darren @ Dragonville a go as the service is second to none. Good stock, but moves quickly - that tells a story in itself.
Peter Brice
I want to write about my first impression of my new Drivelodge Joey based on a Renault Kangoo purchased last Friday from Darren. Can I first say he is very customer focused with great knowledge of the van and made it very easy to deal with. The micro van is fantastic and came with Full MOT with no advisories and an oil service. It drives well for a 2007 and in good condition. I would recommend Darren, he will help if he can.
David Burnham
I've just bought a Nu-Venture Surf from Darren and I can not praise him enough for the service that I got. There were a few thing that were minor that an AA report picked up on and Darren said that they would be all sorted during the service and MOT, and they were.

So if you're ever thinking about getting your first camper, or even just want to get a new one then please go give them a look as you'll get as FIRST CLASS service from Darren and the Team.

North Of Watford but South of Scotland !!
1 Man and his Dog - North Lincs
Good morning Darren. I have tried the electrics out and all perfect. I am really pleased with my little campervan. Thank you for all your help. You have been a pleasure to do business with. Your professionalism and personality has made it a pleasant experience for me as a single lady to feel confident in buying from you. Kind regards from Dawn F
Dawn F - Norfolk
What a professional and friendly company Dragonville is, from our first visit Darren made us feel welcome and there was no pressure to buy at all. Every stage of the sale went like a breeze. I would recommend Dragonville Leisure to anyone. We love our purchase, quality second hand motor homes .
Mick Green
Look no further if you are searching for the right place to buy a campervan - the customer service, communication and helpfulness you'll find here is absolutely first-class. They go over and above in every detail. We're over the moon, couldn't recommend dealing with Darren enough.
Conor - Northern Ireland
Loving my new camper van, the exact layout I was looking for and it drives like a dream. Thank you Darren for all your help, just need the weather now.
Bernadette - North Lincs
I recently purchased a self build, Mercedes Sprinter Camper. The service and confidence Darren gave us in purchasing this vehicle was as if it came from a main dealer. With a no pressure sales approach and a service that went the extra mile to complete the interior of the vehicle prior to sale, my family and I are over the moon with our camper as a result.

Thanks for everything Darren and team, you have transformed the way we holiday.
Paul - Hull
Have had my camper about six weeks now and love it, it's everything Darren said. Great service from Darren couldn't recommend them enough if you want a camper and don't want to be ripped off.

Only one problem I have am now never at home !!!!!
Jean A - Staffordshire
Darren was brilliant. Gave us invaluable advice to make the choice of our first camper easy. Nothing was too much trouble, answered all of our questions and showed us anything about the van.

All was shown in a fantastic environment.

Thanks Darren
Karen - Kent
Last year we purchased our first Motor Home from Darren @ Dragonville Leisure. One of the best moves ever. Darren and Pete, were great from the start and made decision making easy for us. The quality of service and professionalism is second to none, as an ex Customer Care Manager, l feel qualified to attest this. Everything about the purchase was fine, however and unfortunately, following an injury, l was unable to continue driving this lovely manual Motor Home. I sought Darren`s help and Dragonville took all the pressure off me by re advertiing and very quickly re selling it for me. We have had several really good outings and like the concept very much, but would need to have an automatic Motor Home and at my current budget level they would appear to be as `rare as hen`s teeth,` however, we will keep looking. Finally, if you are in the Market for a Motor Home or Camper van and want the assurance of a good sound vehicle then don`t waste your time anywhere else, go to Dragonville Leisure where you will soon discover two of the nicest and most genuine and honest men around. l have read all of the previous testimonials and would agree with the comments made.
Peter Brice - Lincolnshire
Hi Darren

Just to let you know I'm over the moon with my camper, couldn't have got a better one to suit me thank you for being so easy to deal with. Hope you and your family have a great Xmas

Best wishes
Jean
Jean - Stoke-on-Trent
Just bought our first motorhome.

Daren was brilliant - no pressure, good advice and delivered everything promised. Highly recommended.

Thank you for a very pleasant transaction.
Martin & Shirley - Cambs
A beautiful setting, immaculate vans and superb service from Darren! What's not to like? We would whole heartedly recommended Dragonville Leisure.

Thank you, Darren, for making the whole experience such a simple and pleasant one! We are very happy with our Nu Venture Surf and look forward to taking it out.

John and Kate.
John & Kate - Norfolk
To Daren

Thanks for all your considerations in helping us to get our dream.
Paul & Geraldine - Glasgow
Recently bought a Nu Venture Surf from Darren, lovely person took all the stress out of buying the motorhome. Excellent service would be happy to recommend him to anyone thinking of buying a motorhome/camper van, thanks Darren.
Dave Foster - Sheffield
Hi Daren

Thank you so much for delivering my van today I am delighted with it, can't wait to get it on the road.
You have been a very genuine person to deal with and I thank you for that and the Service, Mot, Brakes and petrol you included.
I will be happy to recommend you to anyone who is looking to buy a leisure vehicle.

Kind regards Liz.
Liz - Scunthorpe
Bought our Ford Duetto camper from Daren a couple of months ago and have been so happy with the van, the buying experience and the excellent after sales when we needed to use the warranty.

Would highly recommend!
Justine Hirst - West Yorkshire
Great service from this company....came to meet me with my Romahome, took it from him and had a great drive home.....took it on holiday few days later all was brill....easy money transaction also....would recommend doing business with.
Thanks Daren.
Lyn - Scotland
Recently bought a Mercedes from Dragonville Leisure. So impressed was I of the professionalism of the advert and the honesty of Daren, that I bought the car without actually seeing it. The car was delivered to my home address (not driven). I and my wife were literally blown away with the quality of the car. All credit has to be given to Daren, who's total honesty and professionalism led us to the purchase of the car. I cannot recommend this company highly enough.

Give them a go - you won't be disappointed!
Tony King - Wales
Sold my motorhome to Dragonville Leisure. The process was really smooth from start to finish and Daren gave us a really fair price for the motorhome. An absolute pleasure to deal with and much easier than eBay, gumtree etc!!! I'd have no hesitation buying from, or selling to them in the future!

Thanks,
Peter & Jenny
Peter & Jenny
I recently purchased my Bongo from Daren at Dragonville. no fancy forecourt here just a mixture of good quality vans on the property to suit all price ranges, Daren is happy to work to your budget and to find a van that will suit your needs in a non judgemental or pushy way.

I am more than pleased with my Bongo and the care that was taken to prep the vehicle before Daren drove it home to me. The service I received was good old fashioned quality customer care, very impressed with Dragonville and have no reservations about recommending anyone to arrange to visit - you need to make an appointment it is one to one service which is quite unique.

Follow up questions following my purchase have been answered by Daren by email in a very efficient friendly manner.

Caz
Caz Heath - Notts
Hi Daren

Hope you got back to LIncolnshire last night with no problems. Just to say thank you so much for delivering the van. We are thrilled with it, it is just what we wanted. We haven't been anywhere yet, we need to get it taxed, but we are still planning a trip to Keswick asap.

Thank you for everything and I will definitely be recommending you to anyone who is thinking of buying a van.

Regards.

Pat and Rob
Pat and Rob
Hi Daren,

We hope you got home without too many holdups last night.

Ron and I have been exploring our new camper-car today and we want to say how really pleased we are with it. (And so is Millie!)

Thank you again for guiding us through the purchase and your patience in explaining everything we needed to know.

It really seems to be the perfect vehicle for us, and we are looking forward to lots of trips in the near future.

Yours with gratitude and best wishes,

Wendy and Ron
Wendy & Ron
Thank you for the deal today mate. Your a true gent and you have a beautiful home! She is made up with the motor am glad I bought it off you! Take care and good luck for the future thanks again. Mr Whelan
Mr Whelan
1999(T)reg Peugeot Boxer Auto Sleeper Symphony Camper Van

Honest, Trustworthy, and Reliable. A pleasure to deal with!!. many thanks Daren
Stevie C
Really delighted with my VW T5 Transporter from Daren, he couldn't have been more helpful, replying to all my questions, even those out of hours, quickly.
Nothing was too much trouble. Very professional and wouldn't hesitate to recommend - thanks Daren!
Jo C - Guernsey
Thank you Daren.
In over 40 years of buying used motor caravans, you really are the best and most genuine dealer we've ever met.
We have great faith in your network of feelers, so here's hoping!
Best wishes,
Wendy
Wendy
An amazingly honest and helpful reply to my questions. Still await my perfect van but highly recommend Daren and his thoughtfulness.
Liz Parry
Bought a BMW 6 series of Daren and couldn't of asked for a better service than what Dragonville offered, free delivery to the north east and everything was as he described the car to me over the phone, I would have no hesitation in buying other vehicles from him in the future,

Many Thanks Daren

Mike
Mike Sanderson - North East England
I have recently purchased a Range Rover from Dragonville and to say I'm overwhelmed with the service and care that Daren showed is an understatement.
I have purchased several top end cars over the last 4 or 5 years. None of these previous buying experiences came close to service I received from Daren.

Buying a secondhand car is always a bit of a lottery and the journey home afterwards is a nervous one. Will the car breakdown, have I done the right thing !? You know what I mean.....

Daren delivered the car a couple days after I paid a refundable deposit. This to me was very reassuring, Daren was removing the early niggling doubts that always accompany the purchase of a secondhand car by driving it to me in Glasgow himself. A journey of several hundred miles.

On inspection the car was in great condition but did have a couple of minor issues that I noticed and pointed out. Daren was more than understanding and agreed to help me pay to fix these issues.

The aftercare, attention and proper down to earth customer care made me feel more than happy that I had chosen Dragonville to deal with.

I would thoroughly recommend their services again.

Thanks Daren.
Stewart Denham - Glasgow